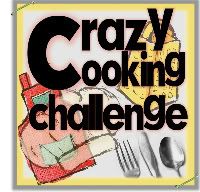 Here we go again with another fun Crazy Cooking challenge,
 sponsored by Moms Crazing Cooking.  The challenge is for you to pick a recipe from "Blog Land" (any recipe you'd like but MUST be from another blog, not from a celebrity chef like Pioneer Woman, Rachel Ray or Taste of Home, etc), it will be a SPECIFIC recipe, bake it & blog about it.  Today's recipe challenge was blueberry muffins.  It can be any kind of muffin as long as it had blueberries in it.


  I really only have one blueberry recipe that is my go to and unfortunately you can't do your own recipe so I was challenged to find one that looked worthy of change.  Thanks to The Confessions of the Overworked Mom I found a picture  for Streusel Blueberry Muffins that was captivating.
I followed the recipe exactly and it was a very thick batter.  The best way is to use a ice cream scoop.
Full of blueberries, especially since I used smaller wild ones.
The original post suggested this was their favorite recipe for now on.  I think they were good, especially warm but got dried out once they were cooled off and the next day.  I love moist muffins that might get your through a couple of days.
Blueberry Streusel Muffin recipe
1 1/2 cups all purpose flour, plus 1 T for coating the blueberries
1 cup  granulated sugar.)
1 1/2 t baking powder
1/4 t salt
3 T milk
2 T heavy cream
2 eggs
4 T unsalted butter, melted
2 1/2 cups blueberries, (I used 2 cups of wild as they were small)
Streusel topping
1 1/2 cups all purpose flour
1/3 cup dark brown sugar
1/3 cup granulated sugar
1 stick cold butter, cut into cubes
2 t ground cinnamon
1 t vanilla extract
Preheat the oven to 365F. Put the flour, sugar, baking powder, and salt in a large mixing bowl and stir until well blended. In a separate bowl, combine the milk, cream, and eggs. Pour into the flour mixture and stir until just combined. Fold in the melted butter. In another bowl, toss the blueberries in the extra lour until thoroughly coated, then fold into the muffin batter. Spoon or use a ice cream scoop to add the mixture into the prepared muffin cases, filling them four-fifth of the way up. To make the streusel topping, combine all ingredients and rub with y our fingers until nice crumnbly, pea sized balls form. Refrigerate for 10 minutes. Scatter the streusel topping over the muffins. Bake in a preheated oven for 25-35 minutes. A wooden skewer inserted in the middle should come out dry and crumbly, and the tops of the muffins should feel springy to touch. Remove the muffins from the muffin tray and eat immediately. Makes 12 muffins.
Come check out the rest of the blueberry muffin recipes chosen this time around.  I am certain you will find one to use on Easter!
[shopeat_button]