Cinco de Mayo is Sunday and you may not be throwing a Mexican Fiesta I am sure you have some Cinco De Mayo Recipes in your archives to share.  Feel free to add any Mexican inspired recipes this week or any Mother's Day Brunch Recipes that we can share with the cooks that day. LOL.  Most importantly have fun sharing your favorite recipes and getting some inspiration:)
Close to Home ,Mostly Food and Crafts and  Adventures in All Things Food. welcome you to FRIDAY FOOD FRENZY where we come share your best recipes and browse others for some great and often easy recipes to try at home.  How many times do you hear "What's for dinner?", surprise them with a cookbook recipe you found on Friday Food Frenzy. 
Outside of following the hostesses, we just love for you to link up a tried and true recipe of your choice. Each week we will feature one recipe so be sure to stick around and click on your favorite recipes. The featured recipe will also be pinned on our Friday Food Frenzy Pinterest Board. Be sure to tell your friends we are cooking up a storm this Friday and to join the party.
 Please visit the three recipes in the linky that are listed as HOST.  We really appreciate your visit.


In honor of one of my favorite food types, I have decided to feature more than one recipe this week!

Homemade Guacamole from A Cozy Place Called Home

Sopes from Adventures in all things food

Mexican Lasagna from Glo's Kitchen
Feel free to grab a button to link up your post as well so others can join in the fun too!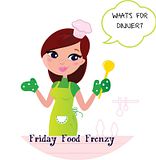 <div align="center"><a href="http://stayingclosetohome.com/search/label/Friday%20Food%20Frenzy" title="Staying Close to Home"><img src=http://photobucket.com/" target="_blank">