Recently made my way to our local Walmart store to find Nestle Coffee Mate Creamers in Peppermint Mocha, French Vanilla and Hazelnut and a little inspiration to make a new recipe and a coffee house drink at home. This is what I brought home, what could I be making today? 
I did not realize how many different Walmart creamers there were available. Grab a few, you are bound to please your family and any holiday guests. How I digress!

I needed to pick two of the 3 flavors to bring home, I am not a big hazelnut fan  so that was an easy choice. I decided to bring home the French Vanilla, since I really enjoy that flavor in my coffee. Hard to say no to the amazing flavor combination of Peppermint and mocha. I just knew that I could create a few different desserts and drinks with this creamer choice.
Now what to do with the Vanilla creamer? I love a flavored latte but realize I don't have the time and extra cash to get one at will. Plus making coffee at home can save you a lot of money in the long run. I know for myself, the cold weather usually has me wanting to grab a warm beverage more often than just first thing in the morning. So why not indulge at home but not break the bank.

Without any sports last Saturday morning I thought I would treat my husband and myself to a warm holiday coffee beverage and my kids to a jazzed up cup of cocoa. I knew that after I took everyone to a traditional coffee house we would be spending way too much money.  Adding some French Vanilla Creamer to the whipped cream, created just the right flavor to our morning.


To make our French Vanilla coffee House drink, I added some Coffee Mate French Vanilla Creamer to the mugs, then some flavored whip cream, then the coffee. Talk about a reason to wake up in the morning.
 Feeling like I needed to give my kids some extra love on Saturday, they got to enjoy some vanilla whipped cream in their hot cocoas. They even announced, these taste just like SB hot cocoas. Yes and for a fraction of the cost!!
Now a recipe incorporating the mocha peppermint creamer into a dessert!!
I originally thought I was going to make a peppermint Mocha Cheesecake but needed more finger food dessert to bring to a party that evening,  so thought of making brownies. So how would I incorporate the Walmart Creamer into my brownies and not jeopardize the outcome. As you know I am not afraid of using boxed mixes especially when I needed the brownies the same night I was making them.
Cheesecake and brownies go together and I have seen plenty of recipes with the swirled cream cheese on top  of a brownie, and I thought I had to use the Oreos I purchased in stead of eating them straight out of the box!! How about mixing them into the batter?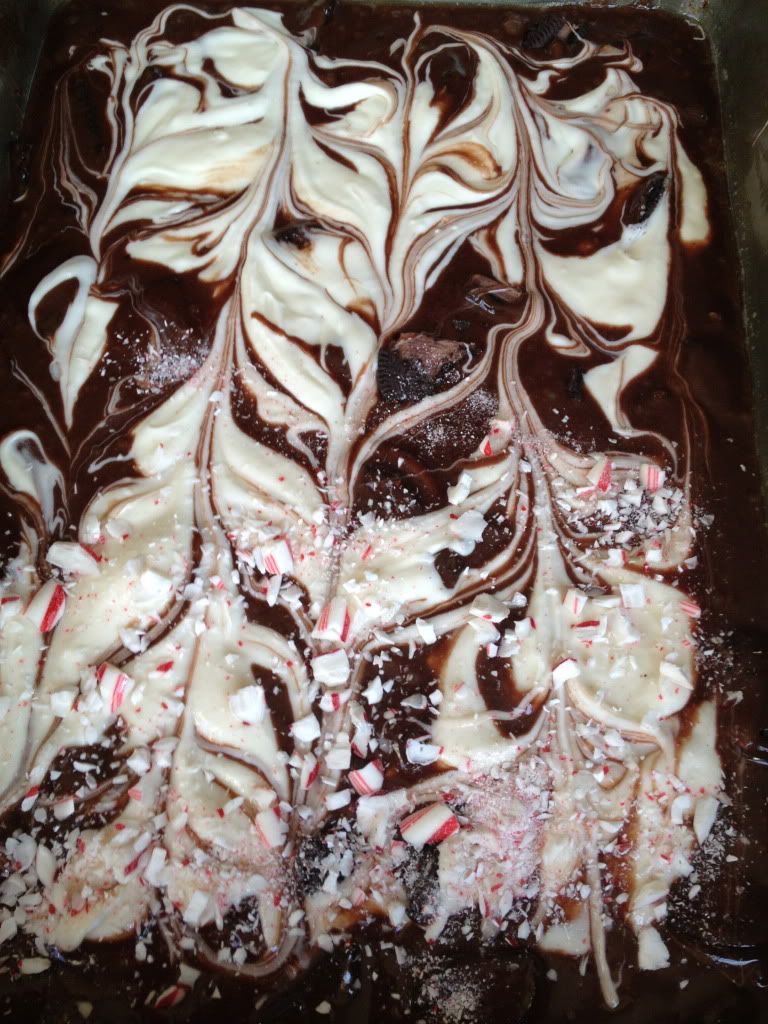 swirled and added crushed up candy cane to one side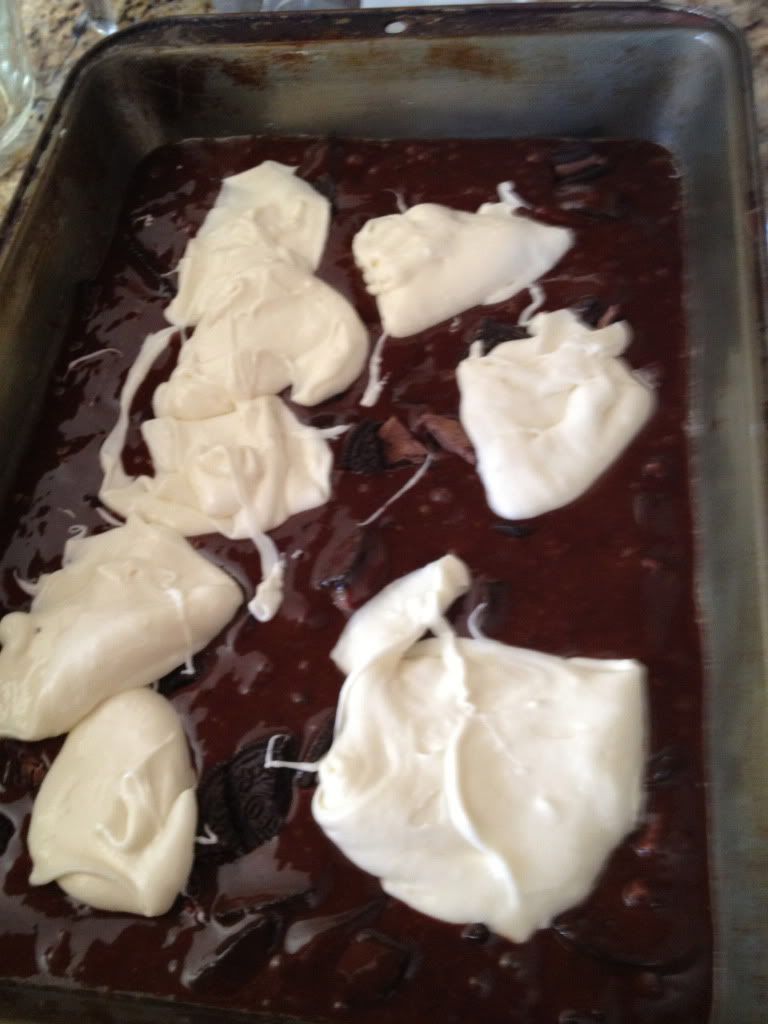 TA DA!! We have our Peppermint, Oreo Cheesecake Brownies. They cooked longer than the box, probably due to the creamy topping. I preferred the side with the crushed up candy cane as it gave it just a little extra peppermint kick.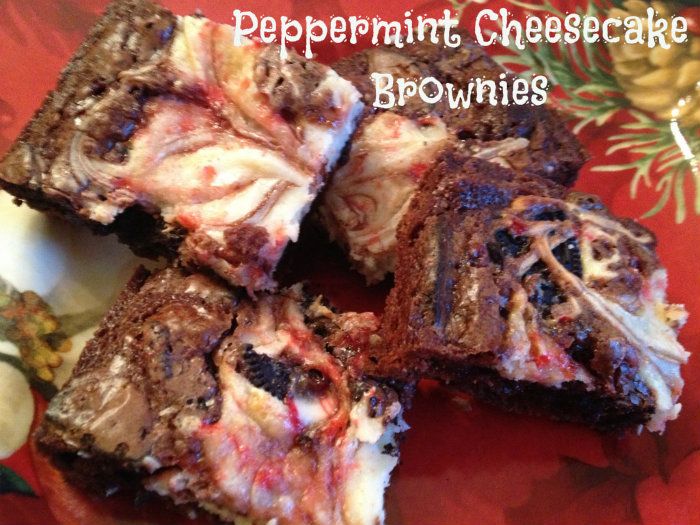 Overall I think everyone was pleased with our recipes using both the French Vanilla and Peppermint Mocha Coffee Mate Creamers. Want a sip/bite?
Before you head out to Walmart to get your Coffeehouse ingredients, check for coupons on Walmart's Coupon site: 

Also, for more inspiration check out Coffee-mate's website for great recipes and tips for using their creamers in more than just coffee:  Coffee Mate website

You can also find Coffee Mate Creamers and recipes  on Twitter and Facebook  

Peppermint Cheesecake Oreo Brownies Recipe

8 ounces (1 package) cream cheese, softened

3/4 cup confectioners' sugar

2 -3 tablespoons Peppermint Mocha Coffee Mate creamer (to taste)

1 9×13 brownie recipe or box mix prepared per directions

1 1/3 cups coarsely chopped Oreo cookies

Peppermint candies-crushed
Preheat oven to 350 degrees F. Spray a 9×13 pan with cooking spray or line and spray with tin foil.

Prepare brownie mix as directed adding chopped up oreos into mix

In a small mixing bowl, using a mixer on medium speed, beat together cream cheese, confectioners' sugar and creamer, until well combined, and reach desired taste, about 1 minute.

Spread half of brownie batter into baking dish, followed by cream cheese layer; dot the top with remaining brownie batter, and spread evenly, as best as you can. Run a knife through batter to make "swirls".

Bake at 350 degrees F, for 25-35 minutes

Cool on a wire rack to room temperature before slicing. Try freezing the brownies for 30-60 minutes for easier cutting.
""I am a member of the Collective Bias®  Social Fabric® Community. This shop has been compensated as part of a social shopper insights study for Collective Bias®  and Nestle Coffee Mate #CBias #SocialFabric #ad"
[shopeat_button]