Living in Richmond, you would think we spent more time in Washington DC but with kids sports we tend to stay local. This weekend we decided to branch out and take advantage of what Washington DC had to offer and explore some Georgetown Restaurants. (We piggy backed a birthday present for my 11 year old who asked to go to a Sabres/Capitals Hockey Game for his present.) The next day we stopped at the Gaylord National Harbor ICE show.
We stayed In Georgetown so we would be centered to the Mall and the Verizon Center. While the boys hit the hockey game, I took my 13 year old shopping in Georgetown. Our hotel was only a short stroll to the many stores and boutiques. After a couple hours looking for clothes and fashion accessories for a teenager we were drawn to El Centro DF.

El Centro DF is conveniently located in the middle of Georgetown off M street on Wisconsin. While it looks like a small restaurant from the front, it is a multi-level yet still quaint Mexican restaurant.
El Centro serves authentic Mexican comfort fare by Richard Sandoval. Menu options include Appetizers, For The Table, Soups & Salads, Tacos, Enchiladas, Chef's Specials, Huaraches, Cazuelas, Iron Skillet Fajitas and Sides, for lunch or dinner as well as the opportunity for weekend bottomless brunch.
Menu Prices: Prices range from $7.95-$10.95 for appetizers, $10.95-$17.95 for tacos, $11.95-$15.95 for enchiladas, $7.95-$11.95 for soups and salads and $14.95-$19.95 for chef's specials.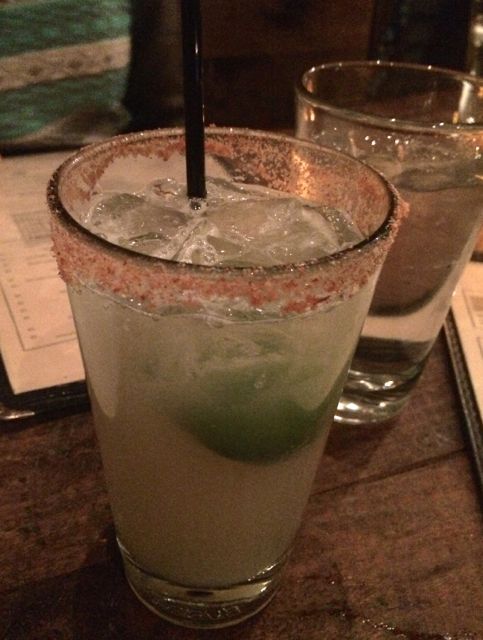 Our table location was not loud and allowed us to have a conversation. I started our meal with an excellent signature El Centro Margarita, which you have the choice of salt, Sugar or chili rim. I went with the Chili rim to try something different. El Centro DF has over 250 Tequilas and offer Tequila flights for enthusiasts.
In addition to the chips and salsa offered to every table we added the table side guacamole that had bacon, pepitas and corn. OMG what a explosion in our mouths unique and flavorful.
Not feeling rushed, our entrees were delivered on large wooden platters. I loved the way they were displayed and not all mushed together on a single platter like some Mexcian restaurants. I had the Mahi-Mahi tacos, consisting of 3 generous tacos with a side of black beans and Mexican friend rice.
My daughter opted for the steak fajitas which had the steak promptly displayed ontop of the mixed peppers so you knew just what you were being served. The Steak, cooked to perfection, was not hidden by onions and peppers and just the right about for a single serving.
We skipped dessert as we were pleasantly full. Our server Caitlin was outgoing and very helpful in ordering. Although we don't have any allergies, I appreciated them asking us prior to ordering.
So next time you are headed to Georgetown, take a break from the stores and unwind to the flavors of El Centro DF.