This shop about 5 Organizing tips for a middle schooler's desk has been compensated by Collective Bias, Inc. and its advertiser. All opinions are mine alone. #EraseStress #CollectiveBias
I think there is irony in this post's title. I am not sure organization and middle schooler ever go together. This year I will have two middle schoolers. My daughter is in 8th grade this year and you would think that her desk would be more organized as she already had 3 years in her middle school to realize the importance of being organized. Well what do these photos tell you… (BTW she has given full permission for these photos to be published)
Back to school is approaching quickly, and here is the before picture that had Mom stressed out about the first day of school.
With school staring in a few weeks and have a rainy day with no other plans, we decided to head to Target and pick up some new Pilot pens and organizational tools to start off the school year right.
(Her clothes organized, well that is a different and constant argument we have.)
Here are our 5 tips to organize a middle schooler's desk:
Start slow, do one drawer or area of the desk at a time.
Dump all contents of a drawer in a clear space on the floor
Have a garbage pile and a Keep Pile
Buy a few organizational trays and bins to help organize their supplies
Let your child put things away in a way that makes sense to them, then provide your suggestions
Since middle school students no longer use pencils to complete most assignments, we are big fans of the 3-pack of Red, Blue, and Black FriXion Erasable Pens. Kids won't have to cross out misspellings instead they can just erase their mistakes and move on. This reduces the time doing their homework; giving them more time to do other activities. (technology not included)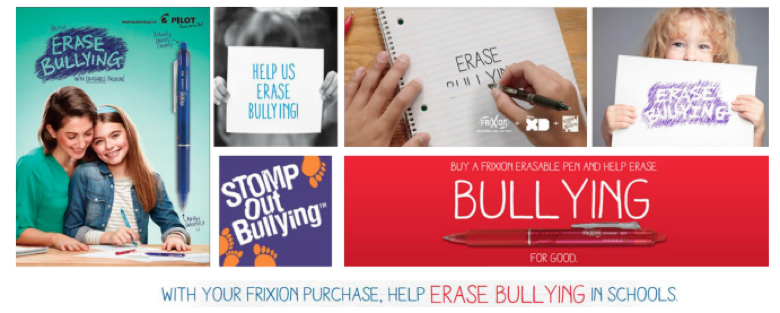 Another reason we are fans of Pilot Pen is their partnership with STOMP Out Bullying. STOMP Out Bullying is the leading national bullying and cyberbullying prevention organization. Pilot will join forces to help build awareness and fund educational programs designed to reduce and prevent bullying in schools across the country. With your purchase of Pilot's FriXion Clicker erasable gel ink pens, you can help Pilot support & fund STOMP Out Bullying programs to 'erase' negative bullying behaviors and 'rewrite' positive, productive solutions.
Pilot will be making a minimum of a $125,000 donation to STOMP Out Bullying, spanning 2015 and 2016. If annual sales goals are exceeded, additional funds will be donated. The additional funds, beyond the minimum $125,000 donation, will be determined based on sales performance & purchase quantities.
HOW YOU CAN GET INVOLVED:
Buy your own pens and save money doing so: from 8/23 – 8/29 Get 20% off FriXion Clicker pen 3pk Assorted and FriXion Clicker pen 3pk Black. Every purchase counts and I love having these in my supply drawer as well.
How do you get your middle schooler organized?