This post about 2 ingredient Queso is brought to you by RO*TEL & VELVEETA . The content and opinions expressed below are that of close to home.
The first time I was introduced to queso was in college where I lived with a girl from Texas. We had an off campus house and were throwing a party. She plopped a can of RO*TEL tomatoes (never seen before) and some VELVEETA (familiar with) into a bowl and microwaved it to into a cheesy but spicy bowl of goodness. The result is what I would call the ultimate College recipe.
Well I am no longer in college, but what occasion calls for such an easy but flavorful dip. The Super Bowl no doubt. Most Super Bow Parties are full of amazing appetizers and why spend time making something when Queso is quick, easy and zesty with just two ingredients, VELVEETA and RO*TEL. The recipe is the perfect addition to our Super Bowl spread. Find the recipe at Queso For All
The recipe could not be simpler, in a microwave safe bowl, cut up your VELVEETA Cheese into cubes and dump in your can of RO*TEL. Heat up in the Microwave. DONE!
For our Super Bowl Party we will be serving our Queso stadium style. Each guest will have their own tray of Queso and chips.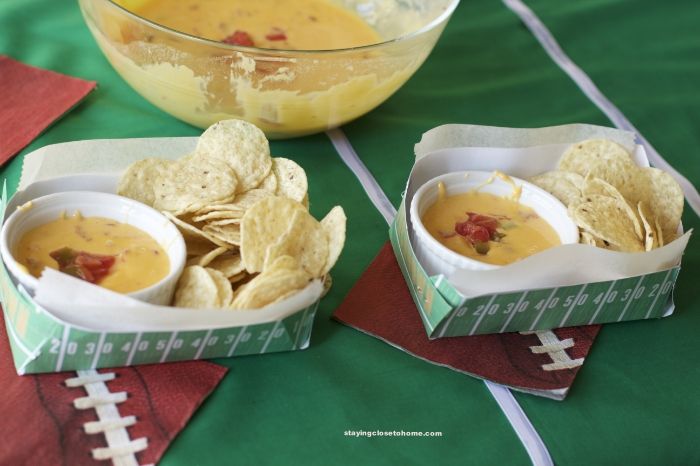 No worries there will be a big bowl on the table for refills as I am sure our guests will be coming back for second helpings. If we run out, no worries, it just takes a few minutes to heat up a new batch.
Have leftovers of our RO*TEL and VELVEETA Queso, just reheat it the next day. Make sure and grab some extra inspiration from both Ro*Tel Facebook and Velveeta Facebook pages.
Next time when we are only in need of one appetizer we might mix things up and make a more complicated dip with extra ingredients, but for now, this 2 ingredient Queso will be simple and flavorful to please all our guests.

Don't you want a bite?