gifIt's is that time of year again to start thinking about your holiday shopping. This year we are sharing some amazing products and clearly think this year is the Best Holiday Shopping Gift Guide for 2017. Each year we share some products we have recently been introduced to that we think our readers would like. From gifts for him to dog gifts for Christmas, we have you covered.
Of course always feel free to check out last year's gift guide too. New this year, many of our sponsors are offering giveaways of the same products we are sharing so be sure to scroll the entire gift guide for amazing giveaways!!
Gifts For Women
Mr Bubble is no longer just for kids. Check out Luxe by Mr. Bubble… a line of retro-inspired pampering products for women. Either go with the Gift Sets such as Milk & Cookies, features an old fashioned milk bottle with two "cookie" bath melts or hit up these fun themed bath products, One the Rocks Body salts, Give me Some Sugar Sugar Scrub or Bubbletini Bath Bombs. Milk & Cookies is available at Target. The Soak and Scrub are available at Ulta Beauty and online starting December 1. Learn more about all the Luxe by Mr. Bubble products by visiting mrbubbleluxe.com.
Win a Bath time Gift Set as part of Cool Women's Gifts Giveaway
4-5 activities or games that correspond to the theme. These challenges not only aim to add a little fun to date night, they are also specifically designed to improve relationship skills (communication, teamwork, trust, etc.). Each couple also receives access to Crated with Love's online bonus content that includes extra games, activities and even date night dessert recipes!
Win A Crated with Love Box on the Cool Women's Gifts Giveaway
Soaps are great stocking stuffers or hostess gifts. Check out Goat Milk Soap from Nature by Canus Over 20 years ago, their laboratory developed a proven technique that transfers the benefits of fresh goat's milk to our goat milk soap products. They are available in full size bars as well as travel size so you don't have to travel without your favorite soaps. They come in scented and unscented varieties too.
Nature by Canus combines a pure vegetable soap base with fresh goat's milk, plant-based ingredients and natural essential oils, such as Lavender, Olive Oil and Wheat Protein, to make up its signature formula, available in Original and Shea Butter, that is free of parabens, phosphates, glutens and artifical colors. Products are not tested on animals.
Win a set of nature soaps in the Cool Gifts for Women Giveaway
No woman can have too many candles in my opinion. I love these Chesapeake Bay Candles. They not only smell good but love the packaging too. Since 1994, Chesapeake Bay Candle has been the home fragrance brand synonymous with stylish design and nature-inspired fragrances. The Heritage Collection's design is simple and clean with basic lines with a modern feel.
The collection offers an array of soothing, energizing, and refreshing scents inspired by botanicals and fruits that are local to Maryland and it's idyllic shoreline. By combining naturally crafted essential oils and impeccable ingredients, each candle is built around a solo or duo ingredient accord and embellished with multiple layers to add to its complexity and depth. Designed and poured in the USA. Price: $15 – $25 Variations: Small Jar, Large Jar, 2-Wick Tin, 3-Wick Coffee Table Jar & Diffuser Scents: 12 in total, including Wild Lemon Grass, Leather Mahogany, Blood Orange, Cypress & Oak, Aqua Marine, Fig & Redwood, White Gardenia, Driftwood & Amber, Milk & Honey, Bay Cottage, Bamboo Jasmine& Cherry Blossom
For The Beach Lover:
Just because it may be cold during the holidays that doesn't mean you have to forget about beachy gifts! Beach sand jewelry and accessories can be custom made with specific sand from the location of family beach trips or adventures. They will love wearing their beach jewelry year round! Pick out a sand from over 3,000 locations in the world or choose from many Florida sands that are in stock and ready to ship on the website. Many styles and prices options.
People love to use sands from where they met their spouse, their honeymoon, adventure trip or future trip inspiration. The jewelry is made here in America and is silver plated with a lifetime guarantee. The charms can be used on a ball chain and make a beautiful necklace.
NEW Custom Inlet Rope Bracelet $50 Buy it her

Ladies Ocean Wave Collection jewelry pieces price ranging $42- $110. Bracelet Link | Necklace Link
Heart Charm Bangle $42 Buy it here
Win the Custom Starfish Beach Sand Bracelet in Cool Women's Gifts Holiday Gift Pack
Stocking stuffer for anyone over the age of 40!! Readers can and should be stylish for anyone that needs them. Check out Readers.com for some super cute choices. They have ones for computer viewing, sunglasses and hand painted ones to name a few. There are more styles than you can imagine and reasonably priced for the style you are getting. I am thrilled to use the ones for screen viewing since that is what I do all day. They have a huge selection of bifocals too if that is where you are!!
Do these candles bring back any memories of the 80's? This beautiful candle comes in amazing colors and won't burn down. It burns oil instead of a traditional wick so this is one candle your gift recipient will have for years. Lather & Lights carved candles are easy to use. All you do is pull the top of candle and pour the the bottle of oil (that will come with the candle). Reattach the wick wait for 2 or 3 minutes so the oil can reach the such and then you may light it.
If the invite says Holiday Attire, we have you covered. Shinesty's matching holiday themed suits and dresses now come in matching outfits for pets and babies! These gifts will sure make someone smile. The dress I received was reversible so you have two party outfits covered. Move over Ugly Sweater Party, we are showing up in a comfortable and fun holiday dress.
Don't leave out pets and babies when gift shopping. They have feelings too! Matching holiday themed outfits are now available for your furry pal and mini me.
Here are some other holiday outfit ideas!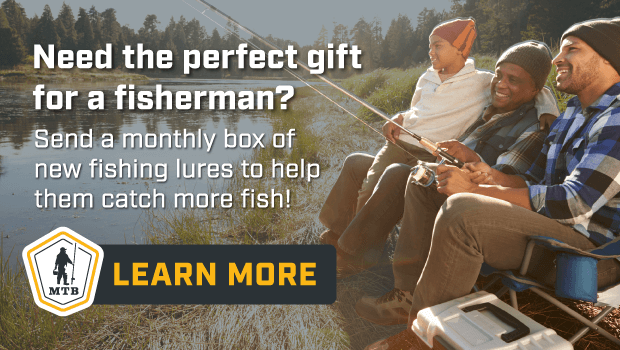 The perfect gift for any Angler on your list. Check out Mystery Tackle Box is the #1 fishing tackle subscription service offering anglers and fishing enthusiasts a fun and affordable way to discover new fishing lures, learn new techniques and catch more fish! If you, or someone you love, enjoys fishing, get them a Mystery Tackle Box Subscription today. You'll enjoy a monthly box full of new and innovative fishing lures and products, content on how to use everything, plus stickers and special offers.
My Readers Get $10.00 Off Your First Mystery Tackle Box by using the promo code USFAM10. Get a box full of new fishing products delivered straight to your door. Subscriptions start at $15 per month. Coupon valid through December 31st, 2017.
Any tech savvy guy will want to check out this home security system that does not require any wiring of your home. Here is the SmartCam PT from Hanwha Techwin (formerly Samsung Techwin). For parents looking to keep an eye on their homes, children, and pets, especially when their kids are home alone, the SmartCam PT is the best device for the job. The SmartCam PT features Two-Way Talk, 1080 full HD resolution, motion detection, live footage, night vision, and more. This is the perfect gift for anyone on your list that has ever wished to be a spy!
Users can simply connect the device with the SmartCam app, enabling them to always see what's going on in their home.
No one can have enough towels and these Micro Cotton towels are going to be a hit for anyone on your list. , These are some of the most soft and absorbent towels on the market. We just love the feel of this Hotel Collection Ultimate Micro Cotton Bath Towel Collection. Available exclusively at Macy's stores.
Enter to win a set of towels
If your spouse gets a good nights rest, everyone is rewarded!! Check out Slumbr, a digital commerce brand focused on sleep wellness for the modern lifestyle. Slumbr launched a Pillow Menu of exceptionally comfy, unique pillows in the spring of 2016. No worries on finding the right pillow, as you can take the Pillow Quiz and find the right fit. No more squishing pillows through plastic. Which pillow fits your sleep style?
Win a Vela Down + Feather Pillow here
The holidays are an opportunity to give gifts that go the distance – especially for the DIY-er! This year STANLEY has a pocket-sized, $20 stocking stuffer, the STANLEY TLM30 Laser Distance Measurer, and we want to send you one to test! Featuring a rechargeable lithium ion battery, this is the perfect tech tool for room planning and paint calculating. It is small and accurate and priced under $20.
An internal lithium ion battery is charged via USB charging cable (provided) and an over-molded case housing for a secure grip and drop protection as well as a wrist strap connection for carrying convenience. StanleyTools.com.
Essential oils are great gifts for anyone on your list. Have you heard of Oh!Organics? They use only certified Organic Ingredients in our Handmade Soaps and Essential Oils. Their products are handmade and also give back by contributed $1.00 from each sale to American Forests which plants one tree.
Our gift products include:
1. A combination pack of 2 soaps (4.5oz.) and 1 essential oil (15ml) boxed and ready to wrap for $18.99 ($28.95 if bought separately)
(GIVEAWAY)
2. A 5 pack of our best selling essential oils (15 ml) for $37.00 ($55.55) if bought separately)
3. A Gift Basket Containing 8 soaps and 5 essential oils for $60.00 ($119.57 if bought separately.
Anyone is a candidate for a soy candle. Check out these wonderful, hand poured in small batches in the Midwest candles from Wax Buffalo. These no thrill containers will fit in any home, even a guy! With scents like Sweet Tobacco, Blood Orange, Oatmeal Stout and Evergreen there is something for everyone. These soy candles have distinct scents and are powerful but not too overwhelming. We really like the unique scents that are not to flowery or sweet.
Win a set of candles in our Men's Prize pack
With Thanksgiving and Christmas, just around the corner, many of us are starting to think about this year's holiday decorations. Make this holiday season simpler with BulbHead.com's new Star Shower Slide Show and Star Shower Laser Magic. Both contain fun Holiday/Christmas images that shine right on your home.
Unlike ones we have had in the past, they include a stand so you can use them inside your home too. What a great way to brighten up a party. Tons of holiday slide choices you can use this gift all year round.
Gifts for Cooks and Foodies to make your mouth water!
Anyone who likes too cook or enjoys a cup of good coffee will love these amazing popcorn combinations. Check out Funky Chunky (available online and select stores nationally). It's a new mix of popcorn, caramel and coffee in three flavors: Caramel Latte, Vanilla Sweet Crème and Dark Chocolate Mocha. If you are more of a traditionalist this time of year, check out peppermint and chocolate version.
Mother Myrick's is a Vermont-based, family-run bakery and confectionary and is giving you a break from baking desserts this holiday season.The brand's Lemon Lulu cake is incredibly delicious, handmade with love, tastes light and bright, and is easily delivered right to your door when you need it, leaving you with more time to focus on everything else. It also stores great in the freezer in case a last minute guest stops by and extra dessert is needed.
You also will not be able to eat just one of Mother Myrick's Buttercrunch milk chocolate toffee candies. Share them if you wish…
Most people don't have enough time over the holidays to bake or you might be looking for a great hostess gift. Check out Foodstirs Modern Baking. USDA Organic baking mixes that just landed on store shelves at your local retailers. Unlike traditional baking mixes that use chemicals and artificial flavors, Foodstirs uses pure ingredients like regenerative Biodynamic sugar and fair trade chocolate to create its ultra-delicious and easy-to-make mixes
Foodstirs Organic Chocolate Chippy Pumpkin Bread Mix – notes of pure pumpkin and ooey gooey fair trade chocolate chips combined for a warm, comforting indulgence
Foodstirs Organic Pumpkin Spice Stacks Pancake Mix – full of craveable Fall flavor, but not full junky ingredients, each fluffy flapjack is ready in just minutes
Foodstirs Organic Snickerdoodle Blondie Mix – they say blondies have more fun, and this crowd-pleaser will leave you snickering from pure enjoyment after every bite
Foodstirs Organic Very Merry Gingerbread Cookie Mix – sweet, spicy, and tastes oh-so-nicey, your taste buds will jingle all the way back for another taste of cinnamon-y goodness
Love to go on picnics or eat alfresco? Worried about carrying glasses? Silipint has your solutions. No matter where your adventures take you, you will need some of the only utility patent for silicone drinkware in the United States. All Silipint products are BPA free, durable & lifeproof. Safe for the dishwasher, freezer, oven, grill and microwave. Don't you just love the colors too? Can't wait to take these wine glasses our for our next tailgate!
Win your own collection of Silipint products
This Italian could not have a Christmas without Panettone!! Panettone is dome-shaped Italian sweet bread studded with candied fruits, traditionally served as special treats for Christmas. Giusto Sapore's authentic Italian imported Panettone is made with butter and generous portions of raisins and candied orange peel. This light and airy two pound round loaf, with a suggested retail price of $15.99, is sold at Italian grocers throughout South Florida and online at Amazon and www.giustosapore.com.
Taste of Home is a recipe source I use a lot. Any Cook on your list will adore either of these books. Take the guesswork out of cooking with Taste of Home Most Requested Recipes! Each of the 633 dishes in this mouthwatering collection is a Five-Star dish as rated on TasteofHome.com, won a recipe contest and/or received raves from Taste of Home readers! Who doesn't love cookies. Great for those who throw or attend cookie exchanges. Make life a little sweeter with a cookie for every day of the year from Taste of Home 365 Days of Cookies!
Cold weather also calls for more soups in our home. Make a side of homemade bread and you have a complete meal that will warm anyone's belly. Whether you're craving chicken noodle, creamy tomato, or loaded potato, a bowl of piping hot soup is always a good idea. Soups, Stews & Breads has over 350 of the most delicious recipes you can imagine, and is filled with photos, tips and serving ideas, too.
Whether you buy food in bulk or just like to meal prep, Impeccable Culinary Objects (ICO), has a new vacuum sealing system . The product features a unique vertical design that saves counter space, ideal for customers who live in apartments. It also includes vacuum bags and rolls that are BPA and phthalate free.The product was designed in Italy and I think that its unique and attractive design should appeal to your readers. To see the vacuum sealer in action view the demo video here: http://bit.ly/2yCBLl0.
You are never too old for slime! Karina Garcia, the well-known Youtube mega-star with a following of over 6 million followers, has created her own slime kit called Craft City Official Make-Your-Own Slime Kit by Karina Garcia. After becoming widely known for her DIY slime videos she decided to partner with Brandable to create her very own slime kit.The kit can be purchased nationwide in-store and online exclusively at Target.
Let's fight bullying in our gift giving this year. Check out Yes 2 collection from www.ShopAfterGen.com for some great kids back packs and lunch boxes. With so much darkness in the world, we aspire to provide hope, happiness and change through anything we can do. This company created the AfterGen Anti-Bully collection and Yes 2 ♥ movement to unite products with a purpose and serve as a constant reminder to spread the message of friendship. "Stay True, Stay Focused, Stay Humble, and Continue Being You" – Yes 2 ♥ by AfterGen. There are so many adorable designs you will be giving a smile in addition to a uplifting message to the recipient.
Enter to win Yes2 Collection: Graffiti Smiley Backpack
Girls can always use a boost for their self esteem. These single bracelet cuffs from Pieces of Me Co are the perfect gift for ladies of any age. This jewelry has even more meaning, because with each bracelet selection you are showing them how much you cherish them than sharing what you love most about them. These single cuff bracelets are hand-crafted in the USA, available in both gold and silver. You can pick from 30 different traits and choose gold or silver. Each bracelet comes with a description of the bracelet you chose for your recipient.
What tween would not adore one of these ZIPIT Pencil pouches in their binder. Especially those that might have braces.
PLAYFUL AND FUN – A practical pencil case and cute animal character together! Choose your favorite and have a special friend to help you stay organized.
MADE OF ONE LONG ZIPPER! – The design features one long zipper that can be fully zipped and unzipped! It's a cool pencil case for boys and girls and makes a great gift!
CONVENIENT STORAGE – Stay organized with style! With a 7.8" extra wide zippered opening, you'll have easy access to all your school supplies. Fits up to 25-30 pencils and pens and can be used also as a makeup bag.
100% POLYESTER – This cute pencil case is carefully created using sturdy, durable polyester fabric so it's made to last.
EASY CARE – Your ZIPIT Animals Pencil Case can be machine washed on the gentle cycle. For best results, zip it completely before washing and use a maximum water temperature of 30°C/86°F. Lay flat to dry.
Younger kids on your list will have fun with these Bobbi-Toads, the first-ever paintable toed and light up toed sneakers on the market! Any little girl on your holiday list will have so much fun with these sneakers. They can paint and create fun designs on their "toes" Bobbi-Toads are eco and animal friendly and are less than $50 a pair. Even better, Bobbi-Toads also donates a portion of proceeds to charitable organizations including Our Lady of the Angels, an inner-city mission in the Stanley's hometown of Chicago. There are several styles to choose from and even light up ones too!
Utter Nonsense Family Edition contains 50 Accent Cards and 450 Phrase Cards which players combine and act out.
You don't have to be good at accents and the combinations don't need to make sense. In fact, players are encouraged to improvise and make the phrases their own. With each successive round, watch as even your most mild-mannered friends and family become improv masters.
Buy Now
Create some great family memories and steer the teens and tweens off the devices. (Wont hurt mom and dad either) Here are three fun games for ages 8 and up.
Wordoku
Wordoku is a combination crossword-sudoku word game for one to six players. In the game, players race to create words and earn points using wooden letter tiles on a 4×4 grid, while skillfully incorporating all the tile symbols to double word values! The game is played over three rounds in which players earn awards for scoring the highest number of points — and for improving their personal high scores between rounds!
JUXTABO
Game of stacking tiles to change colors and match challenge cards

Encourages visual recognition skills, logic, strategy, critical thinking

Stimulating for the brain, exciting for the eyes

Change difficulty by making a bigger board, using timer, different challenge cards

Challenge cards show patterns of 3 or 4 dots – Mix or separate to adjust difficulty
Tsuro
A beautiful and beautifully simple game of laying a tile before your own token to continue its path on each turn. The goal is to keep your token on the board longer than anyone else's, but as the board fills up this becomes harder because there are fewer empty spaces left… and another player's tile may also extend your own path in a direction you'd rather not go. Easy to introduce to new players, Tsuro lasts a mere 15 minutes and actually does work for any number from 2 to 8. Great for ages 8 to 12 years old
Keep the kids off their devices and active while school is out this winter break. NO worries with this football all they need is a wall to get exercise. Thanks to Passback Sports, every one of their footballs is a one-of-a-kind training tool that is thrown like a regulation ball but engineered to hit a surface and come spiraling back. Aim the flat side of the ball to any wall surface and be amazed as it boomerangs back to the person who threw it. It's just like having the perfect practice partner when no one is around! It comes in three sizes:
Official
size for adults and teens,
Junior
Size for (ages 9-13) and
Peewee
Size for Ages 4-8 .
Is your child obsessed with making slime? Then we have the best gift for him or her. Unleash your inner mad scientist with
Slime Sorcery
, from the creators of Will it Slime? With 97 recipes for all kinds of slime; unicorn glitter slime, glow in the dark slime, color changing slime and even a few edible slimes, Slime Sorcery will take you through the basics of slime concoctions to mastery of slimes of all sorts. My High Schooler is actually excited about this too. Buy it on
AMAZON.
Don't forget your favorite 4 legged friends over the holidays.
K9 Control Retractable Leash, the only retractable leash that retracts in the lock or stop position. It's the first of its kind to feature the freedom of a retractable, with the control of a traditional leash. Zero Slack Technology™ keeps the leash taut while locked or in the temporary brake position. By eliminating excess slack, pet parents can now safely pull back their dogs without worrying about getting tangled up or losing control of their pet. Just Set it. Lock It. Walk it.
Enter to win the Gifts for Pet Giveaway
You might be wondering why wine is listed under pet owners. For every puchase of ONEHOPE Pinot Noir it helps fun a pet adoption. To date, ONEHOPE has helped more than 43,000 shelter animals find a forever home. To do its part to make a paws-itive impact, ONEHOPE encourages others to "serve and celebrate" National Dog Day with a bottle of wine, and a gift for both humans and pets alike. The best part…each product helps to fund pet adoptions:
Pinot for Paws Woof! Gift Box ($49) – Includes ONEHOPE CA Pinot Noir, Tennis ball, #WINENOT canvas bone dog toy, cotton rope toy, and gourmet treats. Every box helps fund 1 pet adoption.
California Pinot Noir ($19.99) – Every case funds 1 pet adoption
Sparkling Brut glitter edition bottles that provide 12 meals for a child in need.
Sauvignon Blanc – environmental causes
Chardonnay – women's causes
Pinot Noir – animal causes
Zinfandel – veterans' and troops' causes
Cabernet Sauvignon – children's causes
Merlot – international causes
Getting a puppy or just want to get some stocking stuffers for your dog, check out I and love and you brand
Based in Boulder, CO, "I and love and you" makes super premium pet food and treats that contain everything pets need to be happy and healthy and none of what they don't. All products are made with real meat and contain no grains, fillers, or anything artificial, and are approved by a holistic veterinarian for uncompromising quality.
Based in Boulder, CO, "I and love and you" makes super premium pet food and treats that contain everything pets need to be happy and healthy and none of what they don't. All products are made with real meat and contain no grains, fillers, or anything artificial, and are approved by a holistic veterinarian for uncompromising quality.
Super Smarty Hearties
A treat with a functional benefit and fun reward! These treats contain DHA and Omega 3 fatty acids to support healthy skin and brain development. With Real Salmon as the first ingredient and only 5 calories these Super Smarty Hearties are sure to please both you and you pup.
Hip Hoppin' Hearties
Make sure they get the proper nutrition to support healthy joints with these Hip Hoppin' Hearties. Packed with Real Chicken, added Green Tea Extract and Turmeric these healthy treats are perfect for training or rewarding.
Fresh All Rover Breath Bones
What's better than fresh puppy breath? Garnished with cloves and peppermint oil for freshness, these dental chews have the taste and texture your dog loves while supporting clean teeth. This limited ingredient, grain-free formula with Real Turkey is sure to keep your dog smiling!
PUPPY FOOD STARTER KIT from "I and Love and You" includes (4lb)Naked Essentials Puppy Recipe, (5oz)Super Smarty Hearties Treats, (1-13oz can) Cluckin Good Stew, 1 Customized Collar, 1 Copy of Puppies 101, 50% off a Fun Feeder Slo-Blown from OutwardHound.com, 2 months free of DogTV, 20& off a Molly Mutt dog bed duvet, Additional discounts off "I and love and you" products.
WIN Some I and Love and You Products
Win DoyenWorld: DoyenCat TealBerry and DoyenDog Bandana
When the weather is nice out and not wearing a jacket, where do you store your keys and maybe a few dollars to stop for a coffee when walking your dog? We have the answer with a SPIleash!For the dog lover in your life – we recommend the #SPIleash! With a built-in pocket to stash keys, phone, treats, and other personal items while out for a walk, mom and dad's hands will be freed up for playing fetch or taking selfies with their number one pooch! A guaranteed two paws up for this gift! A deal at MSRP: $19.99
Flavors Include:

Gingerbread
Yogurt, Apples & Bananas
Crunchy Peanuts & Honey
Lamb & Apples
Whitefish & Sweet Potato
Chicken & Cheddar Cheese
NEW Grain-Free Formulas for Dogs: WellBites are free of corn, soy and artificial color and flavor, and they are sold in re-sealable packages for easy storage and transportation.
Flavors Include:

Gingerbread
Turkey & Duck
Lamb & Salmon
Chicken & Venison
Beef & Turkey
Chicken & Lamb

Rich in Omega fatty acids
Clean your dog's teeth with super cute treats like WHIMZEES
DENTAL TREATS: WHIMZEES Large Alligators help to prevent bad breath and the build up of plaque and tartar in larger dogs

PROVEN RESULTS: In an independent study, WHIMZEES were found to be 80% more effective at reducing plaque than leading competitors.

ALL NATURAL: These highly digestible low fat treats are GMO free, gluten free, grain free and contain no artificial colors or flavors