There are so many different kits and DIY bird houses on line and at craft stores. However, they are usually poorly made or the kids cannot put them together by themselves because they need wood glue or hammers etc. I wanted to share with you this great new product, Box for the Birds, that was easy enough for my children, ages 6, 8 and 10 to put together all by themselves. (not so easy they were bored mind you)
I was introduced to Box for the Birds from a neighbor who purchased 6 of these for their grand kids to complete for Father's Day. She spoke so highly of them that I decided to contact them to check it out myself. They are a company based right here in the USA by parents trying to come up with a weekend project to do with their daughter.
This is what arrived in the mail. A simple box, no thrills. You can see the made in Athens, GA stamp! I love to discover great products made right here in the USA.
They are environmentally friendly as well, as the directions are on the back of the box. Keep this in mind: tell your children not to throw or rip the box open when assembling or they will not have a bird house. Of course there are directions on the website, but why waste more paper! My kids took a few minutes to figure this out. But I let them try to figure it out before showing them the back of the box. (Team building exercise right!)
As you can see no thrills just puzzle like pieces that the kids and/or parents can put together in less than 30 minutes.
I turned the kids loose on this one, suggesting this was a product for them to review. It was a rainy day here so we were looking for an indoor project. I went upstairs to change the laundry and in about 15 minutes this is what they presented to me. They were so proud of themselves.
Just thought I would include some pictures of the simple yet large and very sturdy construction.
Of course my children could not leave well enough alone, the creative juices started flowing so they decided to decorate it. You know make it more welcoming to our neighboring birds. Each child took a side and decorated it with sharpie pens of their favorite birds. A welcoming home for any bird. I probably need to seal the bird house from the rain but have not gotten there yet.
This is definitely a great activity for the kids to do that keeps their minds creative as well as their reading skills. Box for the Birds is sponsoring me for the Keeping Kids Creative event in September and will be giving one of my readers a bird box of their own.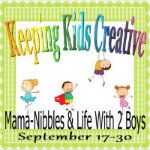 Cant wait until September, kids needing some constructive activities? You can also buy their bird boxes that come in a few styles here.
Box For the Birds provided me with the product to conduct this review, but all the opinions are my own and of course my children. I was not given any further compensation.