Are you ready for some football? I just watch the game for the commercials because if I don't then I am not sure wat everyone is talking about the Monday after the Super Bowl.
So if I am going to sit through a few hours of football I better have amazing things to eat. I am rounding up some Super Bowl Football Themed Recipes that are not only tried and true but also a crowd pleaser of all different ages.
May the best team win and the best appetizer get eaten!
Super Bowl Football Themed Recipes
Doesn't this look amazing for a football themed dessert. Peanut Butter Football Dip. I guess you don't have to just eat it for dessert.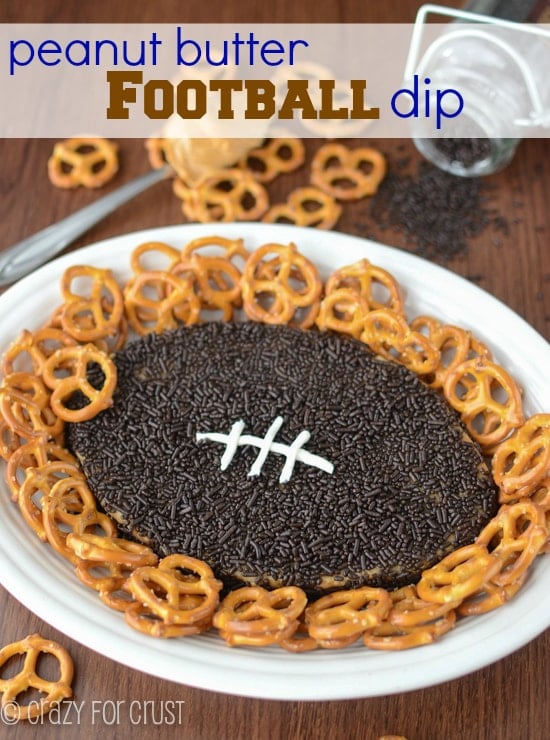 No game day food table is complete without Cheesy Beef Nachos Recipe from Kraft.
Everyone loves potato skins, these Cheese and Bacon Potato Rounds look amazing.
Buffalo Chicken Dip Recipe from Close To Home
Is your mouth-watering yet over these Cheesy, Spicy Bacon poppers. They say game day through and through.
Pizza is a must for any game day party. Arrange some pepperoni into a football, clever and easy idea.
Spanakopita Crecent Recipe
Everyone loves a hearty dip like this Reuben Dip Recipe. You could probably make it with turkey too.
Pizza Wheels a great make ahead appetizer recipe
Or these cheesy bread sticks
Satisfy any vegetarians in the crowd with this Cowboy Caviar
If you can find a full watermelon this time of year, this football shaped watermelon would be a huge and healthy game day idea.
I wish there was a website that I could give this amazing game day food spread. Soo adorable
If you have kids at the party, be sure and have some kid-friendly super bowl food like these Pigs in a Blanket.
Here is another fun way to include the kids in your Game Day festivities with 5 Layer Football Field Dip and activities.
More Super Bowl Football Themed Recipes
These touchdown brownies should be pretty easy to make. Just need a football cookie cutter.
Another super easy game day dessert idea. To make these Football cupcakes, you can even use store bought cupcakes.
What a creative way to serve pretzels with these Chocolate Dipped Football Pretzels.
Or these football pretzels are super easy too.
Be sure and check out last year's super bowl party recipe round up.
What do you usually do for the Super Bowl? Food or Commercials?