This is the first year I have decided to do some taste testing of pies before I officially baked for Thanksgiving. My favorite of all holiday pies is my stand by, but with a slight ingredient twist, Chocolate Bourbon Pecan Pie.
My second pie I tried this week was a Pumpkin-Chocolate Cheesecake Pie I found in the November 2008 Better Homes and Garden Magazine. I tore it out and am just getting to it now.
Really probably just found it after all these years. I will be sharing the pumpkin pie recipes as well as 18 amazing pie recipes to get you in the mood to bake or just eat.
First things first. Had to show you the middle too.
Basically a layered pie with both a cheesecake and pumpkin pie layers. It is simple to make, I actually made both of these pies before heading to the bus stop.
VERDICT: They liked the pie but want to stick to regular pumpkin pie for Thanksgiving. If I made it again I will add more flavor to the cheesecake layer.
Pumpkin Chocolate Cheesecake Pie Recipe
Now what you are waiting for pies from my friends as Secret Recipe Club. A group of amazing cooks that meet up once a month and share recipes. Enjoy
18 Amazing Pie Recipes for Thanksgiving
26 Amazing Pie Recipes for Thanksgiving
homemade pies that are worth the extra steps to make for any occasion but especially pies for thanksgiving.
Dylans Spiced Pumpkin Pie–from Culinary Adventures with Cam
Sweet Potato pie with Cranberry Compote — from Pajama Chef
Crust Apple Pie Recipe by Karen's Kitchen Stores
Coconut Cream Pie with Chocolate Crumb Crust by Barbara Bakes
Bourbon Brown Butter Pecan Recipe by Vintage Kitchen Notes
Cherry Cheesecake Pie by Vanderbilt Wife
German Chocolate Pie by BCMom's Kitchen
Ambrosial Apple Pie by Gastronomical Sovereignty
Gingerbread Cream Pie by Our Eating Habits
Rustic Blueberry Apple Pie Recipe by Dancing Veggies
Boston Banoffee Pie by Lick the Spoon
Apple Pie by My Hobbie Lobbie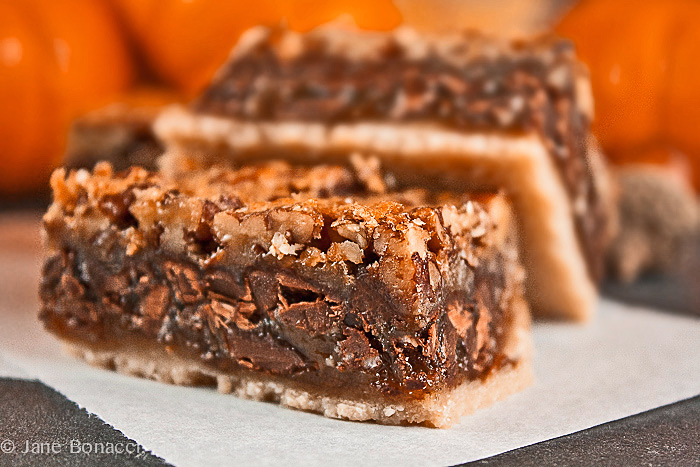 Gluten Free Pie Recipe: Pecan Pie without the Crust by The Heritage Cook
Be sure to pin this when you start holiday baking
How many holidays pies to you bake for Thanksgiving?
Cheesecake Pumpkin Pie
Total Time:
1 hour
20 minutes
Cheesecake Pumpkin Pie recipe is the best of both worlds. Cheesecake layers topped with pumpkin pie
Ingredients
1 single pie crust--We used pre made deep dish
1 8-ounce package cream cheese, softened Low fat
¼ cup sugar
½ teaspoon vanilla
1 slightly beaten egg
1¼ cups canned pumpkin
1 cup evaporated milk
2 beaten eggs
¼ cup sugar
¼ cup packed brown sugar
1 teaspoon ground cinnamon *
¼ teaspoon ground nutmeg*
*or 1 1/2 tsp pumpkin pie spice
¼ teaspoon salt
4 tablespoons all-purpose flour
4 tablespoons brown sugar
2 tablespoons cold butter
1 cup chopped pecans
Instructions
In a mixing bowl, beat the cream cheese until smooth. Add the sugar, vanilla and beaten egg and beat until smooth. Refrigerate for 30 minutes. Spread the mixture into the bottom of the pie crust.
Preheat the oven to 350ºF.
In another mixing bowl, combine the pumpkin, evaporated milk, 2 eggs, ¼ cup sugar, ¼ cup brown sugar, cinnamon, salt and nutmeg. Beat until smooth, then very carefully pour the mixture over the cream cheese layer.
Place the pie on a cookie sheet in the oven and bake for 25 minutes. Cover the edges of the pie with foil, then bake an additional 25 minutes.
In a small bowl, combine the flour, brown sugar and butter. Cut in the butter until the mixture looks like coarse crumbs. Using 2 knives or a pastry blender.
Stir in the pecans. Sprinkle the crumb mixture over the top of the pie. Return to the oven and bake another 10-15 minutes, or until a knife inserted into the center of the pie comes out clean.
Cool the pie for 1 to 2 hours, then transfer to the refrigerator to cool completely.
Take out 15 minutes before serving.
Nutrition Information
Yield

8
Serving Size

1
Amount Per Serving
Calories

507
Total Fat

32g
Saturated Fat

12g
Trans Fat

0g
Unsaturated Fat

18g
Cholesterol

115mg
Sodium

333mg
Carbohydrates

48g
Fiber

3g
Sugar

30g
Protein

10g